MFL: Mazur's Indoor Touch Football League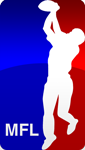 The MFL, or Mazur League as it was often called, was founded by Darrell Mazur in 1996. Darrell was the mastermind behind the creation of indoor touch football in Manitoba. Based on available historical records the MFL was the first indoor league in Canada! From 1996 to 2002 the MFL games were played out of the Golf Dome. A tournament would kickoff the first ever indoor games in the MFL. The Nomads, led by Hall of Fame QB Glen Dyck, captured the first ever Indoor championship ousting some of the top teams in the Province. The success of the tournament ultimately led to the creation of league play and the indoor season as we know it. For those willing to brave the dreaded old school "Astroturf burns", The MFL gave football junkies a chance to get their football fix in over the winter months. In 2002, the MFL moved its games to the Gateway Recreational Center, which converted an indoor hockey rink into a soccer/football field. Those courageous enough to play through the hazards of boards (you could catch a ball against the boards as long as you had one foot on the ground) were treated to some awesome, albeit very late, evenings of Winter football. It was the same year that there was enough teams playing indoor football that the league could be now be split into two seasons, a Fall league and a Winter league!

In 2005, the league returned to the Golf Dome where "newer style" artificial turf eliminated the dreaded rug-burns of the astroturf. No boards meant that out-patterns and corners could be run without risk of life-ending injury! The renovated Golf Dome was a renaissance at the time. New fields brought with it record registration. The league grew year after year, culminating in a then record 56 teams for the Winter 2008 season. The Golf Dome remained the home to the MFL right up until the final season in 2013.

There were some great rivalries in the league, especially between the Avengers and Assassins. The new guard (at the time) battled the old guard in some incredible championship games. In addition to being the first indoor league of its kind, the MFL was also the first to offer coed football and the first indoor league to offer women's football. You could say that the Mazur League was quite ahead of its time. A lot of firsts for the MFL, and for those that played, a lot of great memories. The MFL has the distinction of being the longest running indoor league in Manitoba history, spanning 17 years (1996-2013).
---

ALL-TIME TEAM RECORDS (INDOOR)

MOST CHAMPIONSHIP TITLES: 🏆 Avengers (7) 🏆
MOST COED CHAMPIONSHIP TITLES: 🏆 Asslegs (5) 🏆
POINTS FOR: Getcha Popcorn Ready, Winter 2009 (326) (65.2 points per game)
POINTS AGAINST: Hillbillies, Winter 2008; Getcha Popcorn Ready, Fall 2008 TIED (27) (5.4 points per game)
---
Division 1:
Winter 1996 – Nomads (opponent and score unrecorded)
Winter 1997 – 6 Gun Justice (opponent and score unrecorded)
Winter 1998 - Timberwolves (opponent and score unrecorded)
Winter 1999 - Fired and Hired (opponent and score unrecorded)
Winter 2000 - Air Patrol (opponent and score unrecorded)
Winter 2001 - Eagles (opponent and score unrecorded)
Winter 2002 - Eagles defeat Six Gun Justice 37-20

Fall 2002 - Kull and Some Guys (opponent and score unrecorded)
Winter 2003 - Bandeagles (opponent and score unrecorded)
Fall 2003 - Avengers (opponent and score unrecorded)
Winter 2004 - Weekend Warriors (opponent and score unrecorded)
Fall 2004 - Avengers (opponent and score unrecorded)
Winter 2005 - Assassins (opponent and score unrecorded)
Fall 2005 - 6 Gas (opponent and score unrecorded)
Winter 2006 - Sunparties (opponent and score unrecorded)
Fall 2006 - Avengers defeat Assassins 32-30
Winter 2007 - Avengers defeat Assassins 42-19
Fall 2007 - Avengers defeat Assassins 40-24
Winter 2008 - Assassins defeat Avengers 42-33
Fall 2008 - Assassin Legends defeat Get Your Popcorn Ready 54-19
Winter 2009 - Assassin Legends defeat Get Your Popcorn Ready (score unrecorded)
Winter 2010 - Aztecs defeat Assassins 32-6
Winter 2011 - Assassin Legends defeat Sho Nuff 38-26
Fall 2011 - Doggs defeat Assassin Legends 44-38
Winter 2012 - Doggs defeat Campbell Soup 51-37
Winter 2013 - Doggs defeat Assassin Legends 40-19
---
Division 2:

Winter 2002 – Avengers defeat Mama's Boys 46-43
Winter 2003 – 13 Guys and a Ball (opponent and score unrecorded)
Winter 2004 - Hurricanes (opponent and score unrecorded)
Winter 2005- Outsiders (opponent and score unrecorded)
Fall 2005 - Avenger Nation (opponent and score unrecorded)
Winter 2006 - Avenger Nation (opponent and score unrecorded)
Fall 2006 - Blazers (opponent and score unrecorded)
Winter 2007 - Avenger Nation defeat Blazers 41-13
Fall 2007 - Avenger Nation (opponent and score unrecorded)
Winter 2008 - Avenger Nation defeat Aztecs 33-28
Fall 2009 - Assassin Legends defeat Ducks Unlimited 34-27
Winter 2010 - TAK defeat Oak Park Posse (OPP) 42-18
Fall 2010 - Clenched Fists defeat TAK 28-27
Winter 2011 - Minor Bantam All-Stars defeat Urban Animals 31-6
Fall 2011 - TAK defeat Minor Bantam All-Stars 46-7
Winter 2012 - TAK defeat Oak Park Posse (OPP) 42-18
Winter 2013 - Greenbowl Packers defeat Ben's Hooterville 22-12
---
Division 3:

Winter 2003 – Avengers (opponent and score unrecorded)
Winter 2004 – U of M Benjamins (opponent and score unrecorded)
Winter 2005 - Blazers (opponent and score unrecorded)
Fall 2005 - Urban Animals (opponent and score unrecorded)
Winter 2006 - Torsion (opponent and score unrecorded)
Fall 2006 - Torsion (opponent and score unrecorded)
Winter 2007 - Team Stegall (Morningwood) defeat Nunwood 25-12
Fall 2007 - Southside Avengers defeat Barracudas 36-19
Winter 2008 - Hurricanes defeat Morningwood 24-19
Winter 2009 - TAK (opponent and score unrecorded)
Fall 2009 - Matt and the Pussycats defeat the Knights 37-28
Winter 2010 - Monstars defeat the Pope's Erection 32-18
Fall 2010 - All Washed Up defeat 3rd and Schlong 30-14
Winter 2011 - Strangers With Candy defeat Thumpers 40-21
Fall 2011 - Gentle Hands defeat Blitzkrieg 33-32
Winter 2012 - Sleeveless Monstars defeat Over the Top 45-18
---
Division 4:

Winter 2004 – El Paquitos (opponent and score unrecorded)
Winter 2005 - Wide Right (opponent and score unrecorded)
Winter 2006 - Titans (opponent and score unrecorded)
Fall 2006 - Steamers (opponent and score unrecorded)
Winter 2007 - Beez Part Deux defeat Assassins Legends 46-20
Fall 2007 - Hyenas (opponent and score unrecorded)
Winter 2008 - Assassin Legends defeat Titans 41-26
---
Division 5:

Winter 2005 - Rods II (opponent and score unrecorded)
Winter 2006 - Assassins Legends (opponent and score unrecorded)
Winter 2007 - Maroons defeat Facekick 32-24
Fall 2007 - TAK (opponent and score unrecorded)
Winter 2008 - Big Deal defeat TAK 26-25
---
COED Champions:

Winter 2007 - Titans (opponent and score unrecorded)
Winter 2008 - Assassin Legends (opponent and score unrecorded)
Fall 2009 - Coed Legends defeat Gong Show 27-6
Winter 2010 - AssLegs defeat Touchdown My Pants 36-32
Fall 2010 - AssLegs defeat Vikings 41-32
Winter 2011 - Adelle's Belles defeat AssLegs 53-46
Fall 2011 - AssLegs defeat Buccaneers 28-27
Winter 2012 - AssLegs defeat Buccaneers 39-12
Winter 2012 - AssLegs defeat Buccaneers 31-30
---
Women's Champions:

Winter 2006 - Wildcats defeat Flash 12-6
Winter 2007 - Chargers defeat Flash 46-0
---
MFL: Statistical Leaders & Record Holders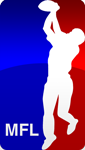 ---
ALL-TIME RECORDS

POINTS: Joseph Osiname, Getcha Popcorn Ready (GYPR) (109) Winter 2009
TOUCHDOWN PASSES: Jesse Clarke, Getcha Popcorn Ready (GYPR) (39) Winter 2009
INTERCEPTIONS: James Gerardy, Minor Bantam All-Stars (14) Fall 2010
SACKS: Barry Dejaeger, Hurricanes (18) Winter 2006
🏆 INDOOR DIVISIONAL RECORDS (5-game season) 🐐 ALL-TIME LEAGUE RECORDS

---
DIVISION 1:

POINTS:
Points were not recorded prior to 2002
Winter 2002: Andrew Roberts, Kull and Some Guys (43)
Winter 2003: Dave Suehn Jr, Assassins (100)
Winter 2004: Brad Friesen, Weekend Warriors (57)
Winter 2005: No Stats Available
Winter 2006: Gavin Panchuk, Avengers (59)
Fall 2006: Brant Cook, Avengers; Chris Matheson, Assassins (68)
Winter 2007: Mike Brownridge, Avengers (74)
Fall 2007: Gavin Panchuk, Avengers (69)
Winter 2008: Brant Cook, Avengers (52)
Fall 2008: Jessie Clarke, Getcha Popcorn Ready (GYPR) (79)
🐐🏆🐐 Winter 2009: Joseph Osiname, Getcha Popcorn Ready (GYPR) (109) 🐐🏆🐐
Fall 2009: Barry Dajaeger, Ducks Unlimited (43)
Winter 2010: Harlo Larkin, Aztecs (83)
Fall 2010: Ben Shea, T.A.K. (61)
Winter 2011: Salar Ghoreshi, Greyhounds (60)
Fall 2011: Wayne Jackson, Doggs (76)
Winter 2012: Wayne Jackson, Doggs (27)
Winter 2013: Darryl Janzen, Doggs (65)
TOUCHDOWN PASSES:
Touchdown passes were not recorded prior to 2003
Winter 2003: Tim Shea, Assassins (20)
Winter 2004: Jonathon Franklin, Avengers; Tim Shea, Assassins (22)
Winter 2005: No Stats Available
Winter 2006: Jonathon Franklin, Avengers (23)
Fall 2006: Tim Shea, Assassins (27)
Winter 2007: Jonathon Franklin, Avengers (28)
Fall 2007: Jonathon Franklin, Avengers (26)
Winter 2008: Tim Shea, Assassins (32)
Fall 2008: Tim Shea, Assassin Legends (31)
🐐🏆🐐 Winter 2009: Jesse Clarke, Getcha Popcorn Ready (GYPR) (39) 🐐🏆🐐
Fall 2009: Tim Shea, Assassin Legends (24)
Winter 2010: Mike Brownridge, Aztecs (26)
Fall 2010: Tim Shea, Clenched Fists (20)
Winter 2011: Tim Shea, Assassin Legends (29)
Fall 2011: Mike Nelson, Doggs (26)
Winter 2012: Tim Shea, Legends (26)
Winter 2013: Mike Nelson, Doggs (26)
INTERCEPTIONS:
Interceptions were not recorded prior to 2002
Winter 2002: Ryan Sellar, Kull and Some Guys (8)
Winter 2003: Corey Hanssen, 6 Gun Justice; Dave Suehn Jr, Assassins; Damian Dech, 6 Gun Justice; Dan Johnson, All O No D (5)
Winter 2004: Kelsey Gray, Assassins (5)
Winter 2005: No Stats Available
Winter 2006: Dave Suehn, Assassins; Ogo Okwumabua, Sunparites (6)
Fall 2006: Mike Brownridge, Avengers (5)
Winter 2007: Mike Brownridge, Avengers (10)
Fall 2007: Gavin Panchuk, Avengers (8)
Winter 2008: Gavin Panchuk, Avengers (6)
Fall 2008: Jesse Clarke, Getcha Popcorn Ready (GYPR) (13)
Winter 2009: Hernani Couto, Getcha Popcorn Ready (GYPR) (9)
Fall 2009: Bryson Prendergst, T.A.K. (7)
Winter 2010: Gavin Panchuk, Aztecs (6)
🐐🏆🐐 Fall 2010: James Gerardy, Minor Bantam All-Stars (14) 🐐🏆🐐
Winter 2011: Anthony Raposo, Greyhounds; Justin Paquin, Greyhounds; Rick Litke, Assassin Legends (4)
Fall 2011: Dave Suehn, Doggs (5)
Winter 2012: Wayne Jackson, Doggs (5)
Winter 2013: Ev Jackson, Doggs (4)
SACKS:
Sacks were not recorded prior to 2002
Winter 2002: Al Desaulniers, Kull and Some Guys (8)
Winter 2003: Barry DeJaeger, Insiders; C. McKay, Untouchables (6)
Winter 2004: Damian McKenzie, Avengers (4)
Winter 2005: No Stats Available
Winter 2006: Jeff Kull, Assassins; Paul Shea, Assassins (2)
Fall 2006: Brett Stewart, Avengers; Andrew Mann, Assassins (4)
Winter 2007: Damian McKenzie, Avengers (4)
Fall 2007: Omar Dwyer, Assassins (6)
Winter 2008: Omar Dwyer, Assassins (3)
🏆 Fall 2008: Larry Klassen, D.N.R. (16) 🏆
Winter 2009: Kyle McCourt Getcha Popcorn Ready (GPR) (14)
Fall 2009: Barry Dejaeger, Ducks Unlimited; Paul Sequeira, T.A.K. (2)
Winter 2010: Cole Gibb, Gladiators (3)
Fall 2010: Michael Dew, Strangers with Candy (8)
Winter 2011: Ben Shea, Campbell Soup; Phil Penner, Campbell Soup; Omar Dwyer, sho nuff; Barry Dejaeger, Greyhounds; Adam Loszchuk, Greyhounds (2)
Fall 2011: James Barton, Assassin Legends (11)
Winter 2012: James Barton, Legends (11)
Winter 2013: Jeff Kull, Doggs; Kyle Willis, Doggs; Kyle Laggo, Doggs (1)
---
DIVISION 2:

POINTS:
🏆 Winter 2003: James Sevick, Avengers (92) 🏆
Winter 2004: Mike Laping, Outcastz; Cam Wilson, Illegal Process (39)
Winter 2005: No Stats Available
Winter 2006: Marc Jeanson, Hurricanes; Gavin Panchuk, Avengers II (44)
Fall 2006: Trevor Smart, Urban Animals (44)
Winter 2007: Trevor Halvorsen, Avenger Nation (72)
Fall 2007: Jamie Peters, Hitmen (62)
Winter 2008: Ryan Harbour, Avenger Nation (55)
Winter 2009: Coleton Prendergast, T.A.K. (43)
Fall 2009: Kevin Ingleton, The Maggots (74)
Winter 2010: Bj Bj, Entourage (70)
Fall 2010: Marc Jeanson, Balls of Furry (71)
Winter 2011: Colin Loszchuk, Adamantium (51)
Fall 2011: Chad Young, Minor Bantam All-Star's (49)
Winter 2012: Tyson Jones, OPP Oak Park Posse (43)
Winter 2013: Zach Regert, Green Bowl Packers (31)
TOUCHDOWN PASSES:
Winter 2003: Jonathon Franklin, Avengers (24)
Winter 2004: Jerry White, Illegal Process (18)
Winter 2005: No Stats Available
Winter 2006: Jonathon Franklin, Avengers II (20)
Fall 2006: Jonathon Franklin, Blazers (16)
🏆 Winter 2007: Jonathon Franklin, Avenger Nation (25) 🏆
Fall 2007: Mike Brownridge, Aztecs (24)
Winter 2008: Jerry White, Kamikaze (20)
Winter 2009: David Ernewein, All Washed Up (13)
Fall 2009: Roger Schaubroeck, The Maggots (20)
🏆 Winter 2010: Jason Camphuis, Blitzkrieg (25) 🏆
Fall 2010: David Ernewein, All Washed Up; Ben Carr, 3rd & Schlong TIED (22)
Winter 2011: Marc Jeanson, Adamantium; James Gerardy, Minor Bantam All-Stars TIED (18)
Fall 2011: Ryan Ozunko, T.A.K. (19)
Winter 2012: Jon Palmerton, OPP Oak Park Posse (17)
Winter 2013: Ben Shea, Ben's Hooterrville Team (6)
INTERCEPTIONS:
Winter 2003: Kirby Shwaykosky, Hurricanes (7)
Winter 2004: Cameron Kolstad, Outcastz (6)
Winter 2005: No Stats Available
Winter 2006: Nick Gulakow, Hurricanes; Gavin Panchuk, Avengers II (5)
Fall 2006: Ray Haluik, Blitzkreig (7)
Winter 2007: Manny Atwal, Blazers (6)
Fall 2007: Jamie Peters, Hitmen (8)
Winter 2008: Adam Downing, Aztecs (7)
Winter 2009: Alex Leppanen, All Washed Up (7)
Fall 2009: Ted Oakley, Matt & the Pussycats (7)
Winter 2010: Bj, BJ, Entourage (8)
Fall 2010: Kevin Andrade, All Washed Up; Jared Anderlic 3rd & Schlong; Evan Panchyshyn, Warriors (5)
Winter 2011: James Gerardy, Minor Bantam All-Stars (5)
🏆 Fall 2011: James Gerardy, Minor Bantam All-Stars (10) 🏆
Winter 2012: Tyson Jones, OPP Oak Park Posse (5)
Winter 2013: Ben Shea, Ben's Hooterville Team (6)
SACKS:
Winter 2003: Joel "Gooch" Goulet, Avengers (10)
Winter 2004: Rod Shwaykosky, Hurrincanes (10)
Winter 2005: No Stats Available
🐐🏆🐐 Winter 2006: Barry Dejaeger, Hurricanes (18) 🐐🏆🐐
Fall 2006: Brett Stewart, Avengers; Andrew Mann, Assassins (4)
Winter 2007: Justin Breen, OC (12)
Fall 2007: Kyle Burton, Hitmen; Omar Dwyer, Aztecs; Paul Frias, Torsion; Tom Nott, Torsion (2)
Winter 2008: Greg Robinson, Kamikaze (5)
Winter 2009: Larry Klasssen, D.N.R. (13)
Fall 2009: Matt Mrozek, Matt & the Pussycats (7)
Winter 2010: Michael Dew, Blitzkrieg (10)
Fall 2010: Adam Loszchuk, Balls of Furry; Scott Stelmaschuk, Warriors TIED (4)
Winter 2011: Adam Loszchuk, Adamantium (4)
Fall 2011: Paul Sequeira, T.A.K.; Tim Maguire, Minor Bantam All-Star's TIED (4)
Winter 2012: Aaron Glawson, OPP Oak Park Posse (5)
Winter 2013: Kyle Smith, Green Bowl Packers (2)
---
DIVISION 3:

POINTS:
Winter 2003: Ron "RB" Bumbry, DaKillaBees (58)
Winter 2004: Gavin Panchuk, Benjamins (49)
Winter 2005: No Stats Available
Winter 2006: Allan Randall, Darkness (69)
Fall 2006: Derek Persad, South Side Avengers (58)
Winter 2007: Kevin Robson, The Untouchables (67)
Fall 2007: Bert Bertake, South Side Avengers (81)
🏆 Winter 2008: Bert Bartake, Morningwood (84) 🏆
Winter 2010: Chad Stevenson, Knights (45)
Winter 2011: Liel LaFreniere, Phish Takhos (76)
Fall 2011: Greg Johnson, Blitzkrieg (64)
Winter 2012: Scott Olynick, Blitzkrieg (62)
TOUCHDOWN PASSES:
Winter 2003: Jonathon Franklin, Avengers II (25)
🏆 Winter 2004: Jonathon Franklin, Avengers II (26) 🏆
Winter 2005: No Stats Available
Winter 2006: Ron (RB) Bumbry, Da Killa Beez (18)
Fall 2006: Brad Sarna, Hitmen (22)
Winter 2007: Martin Windus, No D (23)
Fall 2007: Charles Carlos, The Untouchables (24)
Winter 2008: Mike Brownridge, Super Team (21)
Winter 2010: Ben Carr, Monstars (19)
Winter 2011: Marc McPike, RedCoats (20)
🏆 Fall 2011: Chris Kluz, Blitzkrieg (26) 🏆
Winter 2012: Jeff Einarson, Sleeveless Monstars (20)
INTERCEPTIONS:
Winter 2003: Jerry White, Avengers II (7)
Winter 2004: Marco Frias, Blazers; Gavin Panchuk, Benjamins (4)
Winter 2005: No Stats Available
Winter 2006: Brett Thurston, Short Bus (6)
Fall 2006: Dino Lisi, Torsion (7)
Winter 2007: Kevin Robson, Untouchables (8)
Fall 2007: Kenny Ferguson, South Side Avengers (7)
Winter 2008: Nate Bach, OC (8)
🏆 Winter 2010: Chad Stevenson, Knights (11) 🏆
Winter 2011: Tyson Jones, OPP Oak Park Possie (7)
Fall 2011: Matt Duncan, Gentle Hands (7)
Winter 2012: Jeff Einarson, Sleeveless Monstars (6)
SACKS:
Winter 2003: Joel "Gooch" Goulet, Avengers II (16)
Winter 2004: Barry DeJaeger, Duffmen (9)
Winter 2005: No Stats Available
Winter 2006: Ben Bruce, Sh#thawks (8)
🏆 Fall 2006: Jasdeep Atwal, South Side Avengers (13) 🏆
Winter 2007: Daniel Vincente, NE Stealers (12)
Fall 2007: Greg Robinson, Barracudas (12)
Winter 2008: Greg Robinson, Allons-y (9)
Winter 2010: Reg Regnier, Knights (10)
Winter 2011: Stephane Audette, Phish Takhos (9)
Fall 2011: William Gould, RedCoats (6)
Winter 2012: Michael Dew, Blitzkrieg (11)
---
DIVISION 4:

POINTS:
Winter 2006: Ziggy Haluik, El Paquitos; Paul Szakacs, Morningwood (88)
Fall 2006: Adam Gingras, The Big Dirty (64)
Winter 2007: Tim Reisdorf, Assassin Legends; Ryan Sellar, Tittsburgh Feelers (48)
🏆 Fall 2007: Marc Lapointe, Assassin Legends (97) 🏆
Winter 2008: Sean Martin, The Who Dats (58)
TOUCHDOWN PASSES:
Winter 2006: Gavin Panchuk, Titans (21)
Fall 2006: Tim Shea, Assassin Legends (28)
Winter 2007: Tim Shea, Assassin Legends (24)
🏆 Fall 2007: Tim Shea, Assassin Legends (35) 🏆
Winter 2008: Gavin Panchuk, Titans (23)
INTERCEPTIONS:
🏆 Winter 2006: Ziggy Haluik, El Paquitos (11) 🏆
Fall 2006: Jerry White, Hyenas; Andrew Beveridge, The Big Dirty (10)
Winter 2007: Devon Stewart, Thumpers (10)
Fall 2007: Ray St.Mars, Hyenas (8)
Winter 2008: Justin Kasak, Maniax; Kevin Robson, HFC; Derrick Shore, Broncos (8)
SACKS:
Winter 2006: Justin Zarnowski, Morningwood (14)
Fall 2006: Deo Smith, Wraith (13)
Winter 2007: Dustin Vogt, Awesome (8)
Fall 2007: Landon Mah, Wraith (10)
🏆 Winter 2008: Stephen Katopolis, Fun N' Gun (16) 🏆
---
DIVISION 5:

POINTS:
Winter 2006: Joe Colbeck, Prairie Fire (76)
🏆 Winter 2007: Ian Beveridge, Face Kick (108) 🏆
Fall 2007: Rj Padula, Wolfpack (62)
Winter 2008: Jonathan Boville, Hillbillies (75)
TOUCHDOWN PASSES:
Winter 2006: Jason Findlay, Prairie Fire (21)
🏆 Winter 2007: Andrew Beveridge, Face Kick (26) 🏆
Fall 2007: Tim Shea, T.A.K. (22)
Winter 2008: Jean-Guy Mercier, Big Deal (20)
INTERCEPTIONS:
🏆 Winter 2006: Jamie Bouvier, The Franchise (9) 🏆
Winter 2007: Riley Bouvier, Team Tecmo; Jay Grinham, North End Ninja's (8)
Fall 2007: Adam Downing, Wolfpack; Romano Sicat, Monarchs (7)
Winter 2008: Sam Tougas, Big Deal (8)
SACKS:
Winter 2006: Rick Slavinsky, Steamers (10)
Winter 2007: Kyle McCourt, Maroons (11)
Fall 2007: Delorean Padula, Wolfpack (12)
🏆 Winter 2008: Peter Correia, Mulvey Mustangs (13) 🏆
---
COED DIVISION:

POINTS:
Fall 2009: Barry Dejaeger, Gong Show (54)
Winter 2010: Ben Shea, The AssLegs (57)
🏆 Fall 2010: Jordan Gagnon, The AssLegs (70) 🏆
Winter 2011: Wayne Jackson, Adele's Belles (68)
Fall 2011: Ben Shea, The AssLegs (46)
Winter 2012: Wayne Jackson, Buccaneers (55)
Winter 2013: Tyler Wilcox, Buccanners (19)
TOUCHDOWN PASSES:
Fall 2009: Tim Shea, Coed Legends (27)
Winter 2010: Tim Shea, The AssLegs (27)
🏆 Fall 2010: Tim Shea, The AssLegs (28) 🏆
Winter 2011: Tim Shea, The AssLegs (25)
Fall 2011: Tim Shea, The AssLegs (20)
Winter 2012: Tyler Wilcox, Buccaneers (23)
Winter 2013: Tyler Wilcox, Buccaneers (13)
INTERCEPTIONS:
Fall 2009: Craig Swanston, Gong Show (6)
Winter 2010: Barry Dejaeger, Touchdown My Pants (7)
Fall 2010: Ben Shea, The AssLegs (6)
🏆 Winter 2011: Wayne Jackson, Adele's Belles (8) 🏆
Fall 2011: Kelsey Gray, The AssLegs (6)
Winter 2012: Joe Ingrilli, Team Awesome 2 (7)
Winter 2013: Alana Gray, Buccaneers (2)
SACKS:
Fall 2009: Marc Jeanson, Gong Show (4)
Winter 2010: Emily Ashley, Touchdown My Pants (4)
Fall 2010: Jordan Gagnon, The AssLegs (4)
Winter 2011: Jeff Kull, Adele's Belles (4)
Fall 2011: Alana Gray, Buccaneers (4)
🏆 Winter 2012: Amanda Sousa, AssLegs (8) 🏆
Winter 2013: Omar Dwyer, Buccaneers (3)
---
WOMEN'S DIVISION:

POINTS:
Winter 2006: Charlene Mash-Hadlow, Flash (39)
🏆 Winter 2007: Ruth Zimmerman, The Chargers; Roxanna Koe, The Chargers (55) 🏆
TOUCHDOWN PASSES:
Winter 2006: Monique Ditter, Flash (10)
🏆 Winter 2007: Sonya Leung, The Chargers (22) 🏆
INTERCEPTIONS:
🏆 Winter 2006: Teresa Morden, Wildcats (4) 🏆
🏆 Winter 2007: Rebecca Duhard, Flash (4) 🏆
SACKS:
🏆 Winter 2006: Sarah Wong, Flash (12) 🏆
Winter 2007: Sarah Wong, Chargers (9)